Global Network
Global Services
In order to respond instantly to customers' needs, CML has been serving customers all over the world through prompt air and sea freight deliveries. At the same time, after working closely with CML and understanding the local market, customers become local distributors cooperating with CML and get to a win-win situation.
---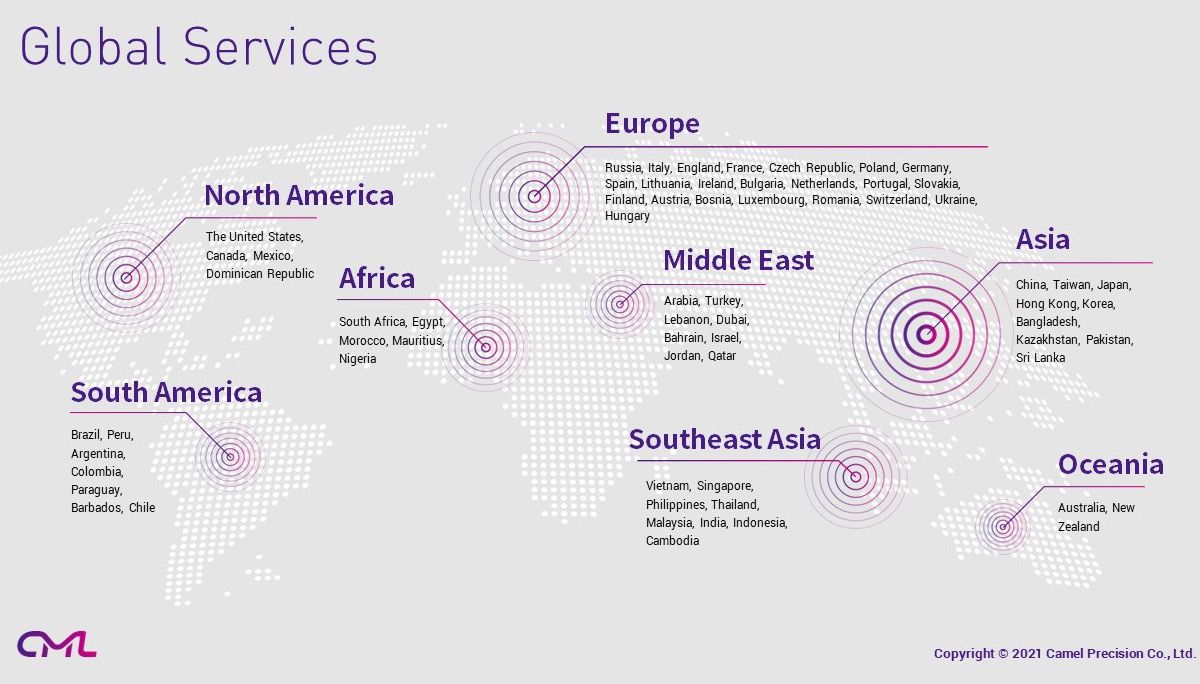 Global Services
- North America
The United States, Canada, Mexico, Dominican Republic

- South America
Brazil, Peru, Argentina, Colombia, Paraguay, Barbados, Chile

- Africa
South Africa, Egypt, Morocco, Mauritius, Nigeria

- Europe
Russia, Italy, England, France, Czech Republic, Poland, Germany, Spain, Lithuania, Ireland, Bulgaria, Netherlands, Portugal, Slovakia, Finland, Austria, Bosnia, Luxembourg, Romania, Switzerland, Ukraine, Hungary

- Middle East
Arabia, Turkey, Lebanon, Dubai, Bahrain, Israel, Jordan, Qatar

- Southeast Asia
Vietnam, Singapore, Philippines, Thailand, Malaysia, India, Indonesia, Cambodia, Sri Lanka

- Asia
China, Taiwan, Japan, Hong Kong, Korea, Bangladesh, Kazakhstan, Pakistan

- Oceania
Australia, New Zealand
Agent from Asia
●India
Fluid Power Engineers
+91-98-78015922
Shop no 4, Shiva Market, M C Road, Zirakpur 140603 Punjab. India

Shree Associates
+91-80-23212230
No.209, 2nd Main, 4th Cross, 12th Block, Nagarbhavi 2nd Stage, Bangalore - 560072, India.
www.shreea.co.in

PV Engineering Associates Pvt. Ltd.
+91 -99-99556695
SCO - 19, Sector - 10A, Gurgaon, Haryana, India.
www.conactpneumatics.com

●Indonesia
Sentosa Flo-Tech
62-31-5458544
Jalan Semarang 94-124 Blok A-19 Surabaya, 60173 Indonesia.

●Vietnam
ANPHU INDUSTRY SERVICES AND TRADING COMPANY LIMITED
+8445576052
No.54, Alley 73/30, Hoang Ngan Street, Nhan Chinh Precinct, Thanh Xuan District, Hanoi, Vietnam.

CNN Engineering & Trading Co., LTD.
(+84) 39696185
286C Minh Phung St, Ward 2, District 11, Ho Chi Minh City, Viet Nam.
www.thietbithuyluccnn.com

●Thailand
Pneumax Co., Ltd.
+6627268000#874
107/1 Chaloem Phrakiat R.9 Rd., Pravet, Bangkok 10250, Thailand.
www.pneumax.co.th

●Malaysia
GRAND-FLO ENGINEERING SDN. BHD.
+603-51035328
No. 6, Jalan Mandolin 33/5, Premier Industrial Park, Seksyen 33, 40400 Shah Alam, Selangor Darul Ehsan, Malaysia.
www.grand-floengineering.com

●Philippines
Fluid Energy Philippines Inc.
+632-4013032
Unit 1 & 2, Ground Floor AVJ Building, No. 99 Fourth st. corner C-3 Road, Caloocan City, 1403, Philippines.
www.fluidenergyph.com

●Korea
Nam Yang Enterprise Co., Ltd
82-2-2026-6868
RM.1501 Leaders Tower, 286 Beotkkot-ro, Geumcheon-gu, Seoul, 08511, Korea.
www.namyang7.com
Agent from America
●Argentina
Verion ICSA
54-11-4754-0044
Intendente Campos 1617/23 San Martin Buenos Aires-Argentina (CP1650).
www.verion.com.ar

●Canada
S.W.R Industries Ltd.
19055648080
321 Ambassador Drive, Mississauga, Ontario L5T 2J3, Canada.
www.swrltd.com
Agent from Europe
●England
CFP Hydraulic Systems Ltd.
+44 1246 451711
Carrwood Road, Chesterfield Trading Estate, Ohesterfield, Derbyshire, S41 9QB, England.
www.challenger-group.co.uk

●Netherlands
R&S HYDRAULIEK B.V.
+31(0)786231818
Ohmstraat 42,3335 LT Zwijndrecht, Netherland.
www.rs-hydrauliek.nl

●Germany
SWR Europe-Van Dinther Antriebstechnik GMBH
+490209177554-42
Engelbertstraße 17-21, 45892 Gelsenkirchen, Deutschland.
www.van-dinther.de

●Poland
ARGO HYTOS Polska sp. z o.o.
+48338731652
ul. Wladyslawa Grabskiego 27, 32-640 Zator, Poland.
www.argo-hytos.com

●Austria
Arhytec e.U. hydraulic technologies
+43 332653986
Rohrer Strasse 19, AT-7553, Stegersbach, Austria.
www.arhytec.com
Agent from Africa
●South Africa
Shosholoza Technologies
011 027 5677
Unit 12, Kemp's Business Park, 16 Vuurslag Avenue, Spartan Extension 7, Kempton Park, Johannesburg, 1459, South Africa.
www.shosholozatech.co.za
Agent Wanted!
If you would like to join us please finish the following form. CML will reach you as soon as possible.