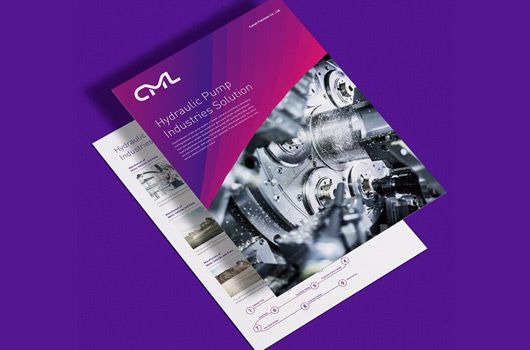 Milestones
CML's brand is about to enter its 40th year. With the enthusiasm and determination to make continuous progress, the company realizes that the brand needs to keep pace with the times and inject new ideas. In 2019, CML decided to rebrand and re-examine its current positioning based on the expectations of customers and employees for the brand.
---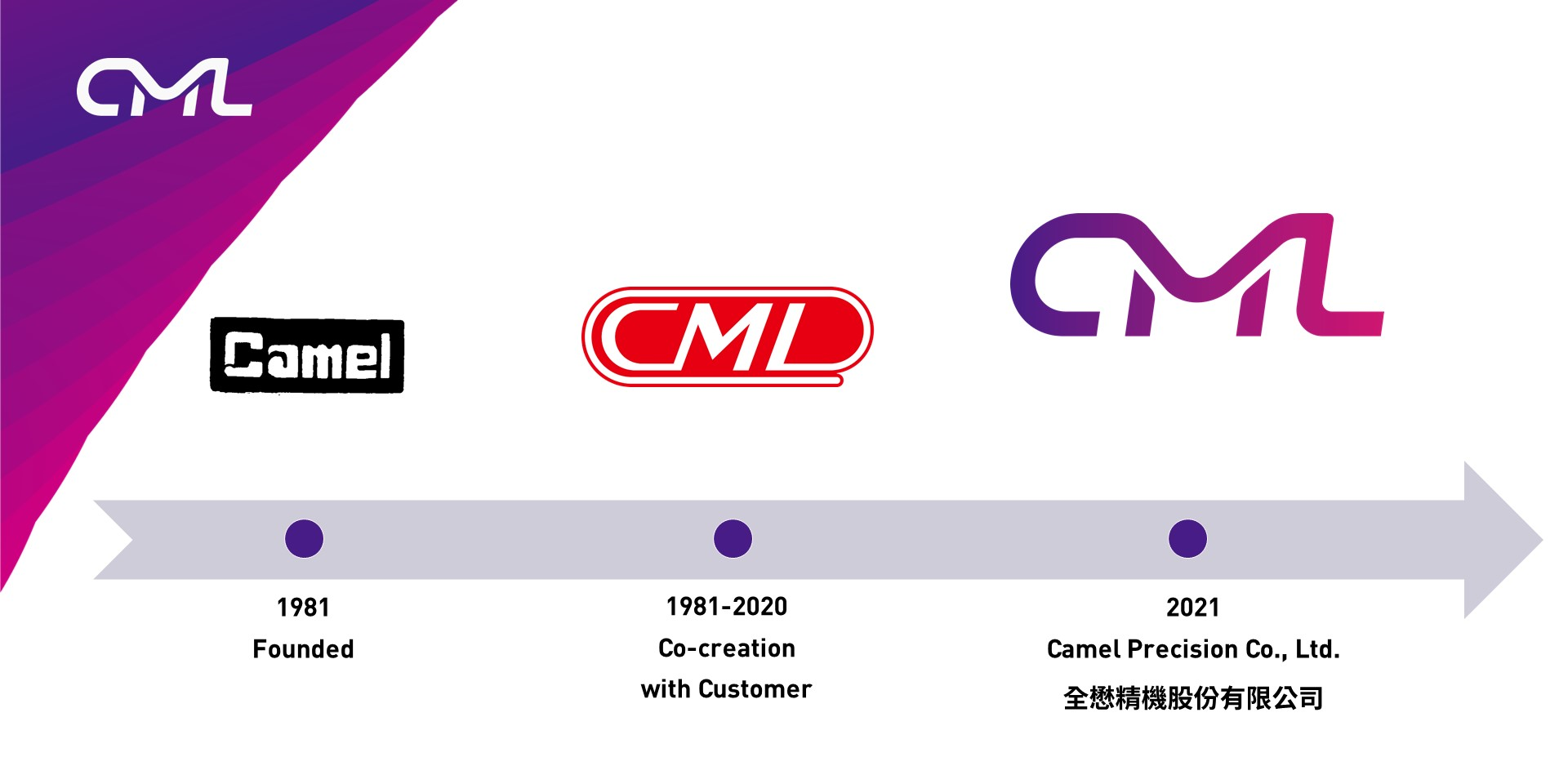 With rich product types, years of experience, and the ability to connect industry-level resources, CML understands the needs of the machinery industry and provides the best integrated solutions to achieve maximum benefits. Through continuous innovation, CML turns enthusiasm focused on hydraulic transmission into stable power for customer's profit.
Brand Identity
The one-piece logo connects the letters of CML, showing the form of liquid flow. The slightly oblique angle of the trademark indicates the brand characteristics of CML's continuous improvement and leadership. With elegant and simple curves, re-interpret the image of product operation and show the features of CML's energy.

Milestones
Year
Achievement
1979
Preparing for the establishment of the company.
Starting with a group of people who sells Japanese-brand hydraulic components and actively investigates the state of the hydraulic market.
1981
Established Camel Precision Co., Ltd. (CML).
The government promotes localization and encourages enterprises to start production.
Camel Precision Co., Ltd. (CML) is one of the three government-subsidized enterprises and was established in Daxin Industrial Zone, Tianzhong Town, Changhua County, Taiwan.
1982
Variable Displacement Vane Pump VCM-SF series was successfully introduced to local industries. Sales of External Gear Pumps EGA and EGB series started.
1983
Fixed Displacement Vane Pump VCM-1M, 2M, 3M series and 50T, 150T were officially launched on the market, and Internal Gear Pumps officially started production.
1985
After years of manufacturing experiences and accumulated techniques, the company was able to supply Internal Gear Pumps. At the same year CML introduced High Back Pressure Type Solenoid Valve (WE series), smooth switching, low resistance, large force, suitable for application in shoemaking machines.
1988
Cooperated with an American company to produce tractor (traction machine) systems, and launched the 600G series of external gear pumps for agricultural machinery.
1990
Provide customized hydraulic power Unit service.
1991
CML external gear pumps are widely used in cutting machinery from the shoemaking machine industry.
Cooperated with Industrial Technology Research Institute to produce and repair internal gear pump parts for military vehicles.
Invested a new company "FUJI-CAMEL ENTERPRISE CO., LTD." a joint venture with Fuji-Engineering Co. (Japan) to produce No Leakage Valve for Parking and Lifting Equipment.
1992
Launched the pump of dumpers applicate for engineering use, providing various tonnage options KP-1403A, KP75A, KP55A.
1993
Medium pressure displacement vane pump VCM-SM series was completed.
1994
Cooperated with Industrial Technology Research Institute, produce the external gear pump of Gate Lifting on armored vehicle was developed for Army.
1995
Expand factory.
Cooperate with Industrial Technology Research Institute to supply Fixed Displacement Vane Pumps on hydraulic lubrication cooling system for Army.
1997
ISO 9002 was approved.
Double-gear B Series Low noise External Gear Pump DEGB series was developed.
1998
For circuits with high and low pressure requirements, Variable Vane Pump with External Gear Pump VCM + EGA series was launched and sold to Europe.
1999
Mr. Chen, the president of Camel was elected Chairman of TFPA (Taiwan Fluid Power Association).
2000
Launched the High Flow Type Solenoid Valve WH series with medium to high pressure and large flow which is applicable for machine tool and various industries.
2001
Established Nanjing Yuanmao Machinery & Electrical Co., LTD. to accelerate the response to the mainland domestic market of Eckerle's products.
Variable Vane Pump with Built-in Check Valve SFC is launched, which greatly reduced the installation space and widely used in the miniaturized machine tool market.
2002
CML was awarded agent of ECKERLE Hydraulics (Germany) covering markets of China and Taiwan.
2003
High pressure with C Series Low Pulsation External Gear Pump EGC was introduced to the market.
2004
Piston pumps for mowers were available and supplied to US market.
The cooling pump for big freezer was developed.
2005
Established NANJING CAMEL HYDRAULICS CO., LTD to supply CML Hydraulic Variable Vane pumps, Gear pumps, and Valves.
Produced the WV series oil dynamic components for Die Cutting Systems Clicking Presses and supplied large quantities of Chinese shoemaking machinery industry.
2006
Celebrate 25th anniversary.
2007
ISO 9001 Certificate was renewed and CE Certificate was awarded this year.
Newest Variable Vane Pump With Cooling Circulation Pump was developed.
2009
Invest in R&D and application of servo system industry.
Start production of Modular valves, includes pressure control, flow control, and check valves.
2010
Participated in the industrial machinery development plan of the Industrial Bureau of the Ministry of Economic Affairs and counseled manufacturers to develop green machinery.
2014
Launched the Servo type Internal Gear Pump IGP series apply in servo energy-saving systems, injection machines, presses, etc.
2018
Camel Precision Machinery (Wuxi) Co.,Ltd. was established to supply CML hydraulic pumps, valves, and Eckerle pumps.
Plant expansion.
2019
Rebranding of CML.
2020
Production line addition and new plant planning.
Compact Variable Vane Pump with Check Valve SFN, which solves the problems of noise and lack of concentricity is launched, greatly reducing the space.
2021
New website is launched.
Movies